From the bestselling author of
Room and The Wonder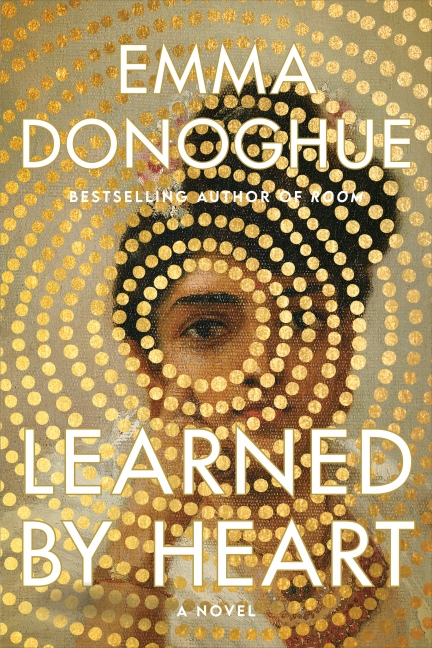 A heartbreakingly gorgeous novel based on the true story of two girls who fall secretly, deeply and dangerously in love at boarding school in nineteenth century York.
Drawing on years of investigation and Anne Lister's five-million-word secret journal, Learned by Heart is the long-buried love story of Eliza Raine, an orphan heiress banished from India to England at age six, and Anne Lister, a brilliant, troublesome tomboy, who meet at the Manor School for Young Ladies in York in 1805 when they are both fourteen.  
Emotionally intense, psychologically compelling and deeply researched, Learned by Heart is an extraordinary work of fiction by one of the world's greatest storytellers. Full of passion and heartbreak, the tangled lives of Anne Lister and Eliza Raine form a love story for the ages. Anne Lister is also the focus of the BBC/HBO show Gentleman Jack.
See Emma Donoghue In-Person
Check back often for updates!
Aug. 27, 10:30am ET: Stratford, ON I Stratford Festival
Aug. 29, 7pm ET: London, ON I London Public Library Wolf Performance Hall
Sept. 6, 7pm ET: Oakville, ON I Oakville Centre for the Performing Arts
Sept. 10: Eden Mill, ON | Eden Mills Writers Festival
Sept. 12:  Kitchener, ON I Kitchener Public Library
Sept. 13: Sarnia, ON | Book Keeper
Sept. 25: Toronto, ON I Toronto Public Library
Sept. 26: Toronto, ON I Toronto International Festival of Authors
Sept. 27, 8pm ET: Kingston, ON | Kingston Writers Festival
Oct. 13-15: Calgary, AB | Calgary Wordfest's Imaginarium Festival
Oct. 16, 7pm ET: Winnipeg, MB | McNally Robinson
Oct. 17, 7pm ET: Victoria, BC | Bolen Books
Oct. 18-22: Vancouver, BC | Vancouver Writers Fest
Oct. 28, 4pm ET: Uxbridge, ON | Book Drunkard Literary Festival, Blue Heron Books
Oct. 29, 4:30pm ET: Ottawa, ON | Ottawa International Writers Festival
Nov. 5-6: Halifax, NS | Afterwords Literary Festival
Enter to win a copy of Learned by Heart
Born in Dublin in 1969, EMMA DONOGHUE is a novelist, screenwriter and playwright. Room sold more than three million copies and won the Rogers Writers' Trust Fiction Prize and the Commonwealth Writers' Prize (Canada and the Caribbean), as well as being shortlisted for the Man Booker and Orange Prizes. Donoghue scripted the Canadian-Irish film adaptation, which was nominated for four Academy Awards, including Best Picture. The Wonder was shortlisted for the Scotiabank Giller Prize, and Donoghue co-wrote the 2022 screen adaptation for Netflix. The Pull of the Stars was a finalist for the Trillium Book Award and was longlisted for the Scotiabank Giller Prize. Donoghue's fiction ranges from the contemporary (Stir-Fry, Hood, Landing, Touchy Subjects, Akin) to the historical (Haven, Slammerkin, The Sealed Letter, Astray, Frog Music) and includes two books for young readers, The Lotterys Plus One and The Lotterys More or Less.