The Seven Deaths of Evelyn Hardcastle by Stuart Turton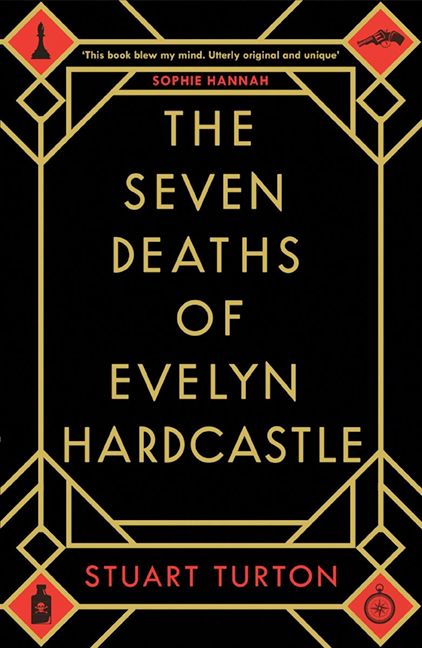 Gosford Park meets Agatha Christie's Murder on the Orient Express
'Somebody's going to be murdered at the ball tonight. It won't appear to be a murder and so the murderer won't be caught. Rectify that injustice and I'll show you the way out.'
It is meant to be a celebration but it ends in tragedy. As fireworks explode overhead, Evelyn Hardcastle, the young and beautiful daughter of the house, is killed.
But Evelyn will not die just once. Until Aiden – one of the guests summoned to Blackheath for the party – can solve her murder, the day will repeat itself, over and over again. Every time ending with the fateful pistol shot. 
The only way to break this cycle is to identify the killer. But each time the day begins again, Aiden wakes in the body of a different guest. And someone is determined to prevent him ever escaping Blackheath...
Here's what #HCCFirstLook readers thought!
"I am awestruck. The writing is so seamless, that even now, I don't know how Turton managed to take a plot that is so complex, with so many separate but interconnected moving parts, and turn it into such a cohesive and utterly readable story. ... It's unbelievable that this is a debut novel, and I can't wait to read what Turton writes next." - Myrna M. Read her full review here!
"This book. Oh my goodness, this book. I love a good mystery (typically because I suck at solving them) but this one had my head spinning. In a good way! ... This story was full of enough twists to keep me hooked throughout and had an ending that made me actually go "WAIT! WHAT?!" I highly recommend this book to murder mystery fans. And those just craving a nice twisty, dark read this fall!" - Gillian G. Read her full review here!
"If you're looking for a completely unique, thrilling, atmospheric, and immersive page-turner, this is it! ... I've heard this book described as "Agatha Christie meets Groundhog Day/Inception," and I'd agree, but it's so ingeniously crafted that you really need to read it yourself. ... The Seven Deaths of Evelyn Hardcastle is an exquisite, creepy, enthralling and mind-bending story that will keep you reading long past your bedtime." - Janice B. Read her full review here!
"Well, this book is going to stay with me for a long time. I've always been a fan of mystery stories – particularly murder mysteries. This book has so much to direct, interpret, and I think it would make a perfect October book club pick! ...  I loved the twists, and I loved how Turton was able to conjure up such a unique story within such a beloved archetype. Turton's writing is eloquent and crisp, and truly had me wanting to turn the page and never put the book down." - Sam A. Read her full review here!
"This book would be perfect as a holiday read as once you start reading it you don't want to put it down. I loved this book because the concept was so new for me and it kept me thinking all the time.  I couldn't wait to get back into reading it each night.  I highly recommend every Book Club out there put it on the MUST READ list!" - Jennifer P.
"Despite my list of suspects and notes, I was still stumped until the end. And the end... Brilliant! Just Brilliant!! SO DID NOT see that coming!" - Gigi. Read her full review here!
"The Seven Deaths of Evelyn Hardcastle is a very classic and old school mystery novel with an interesting twist. ... Settle down in a cozy spot for this one, [it] begs for a comfy binge read." - Lisa B. Read her full review here!
"I very much enjoyed this book and the magical twist to it. The characters were very interesting and I enjoyed reading each of their perspective on the same situation. It was a real page turner!" - Marie H. Read her full review here!
Share The Seven Deaths of Evelyn Hardcastle
Follow HarperCollinsCanada