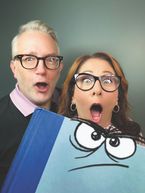 Discover Author
Tony DiTerlizzi Books & Biography
Biography
Angela and Tony DiTerlizzi have been best friends and creative partners for thirty years and married for over twenty. They live in Amherst, Massachusetts, with their daughter, Sophia, and their rescue dogs, Mimi and Pippin.
Angela is a beloved author of award-winning, charming, and inspiring picture books, including the USA Today bestselling The Magical Yet, Some Bugs, Just Add Glitter, and many others. Her books have been featured in Entertainment Weekly and BuzzFeed, on the Today show, and in Cheerios boxes.
Tony is a #1 New York Times bestselling author and illustrator who has been creating books for over twenty years. From fanciful picture books, such as the Caldecott Honor–winning The Spider and the Fly and The Broken Ornament, to fantastic middle grade novels like Kenny & the Dragon, the WondLa trilogy, and the Spiderwick Chronicles (with Holly Black), Tony imbues each story with his rich imagination.
And Cranky is just…well…cranky.