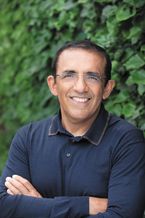 Discover Author
Ranjay Gulati Books & Biography
Biography
Ranjay Gulati is the Paul R. Lawrence MBA Class of 1942 Professor and the former Unit Head of the Organizational Behavior Unit at Harvard Business School. Until recently, he chaired the Advanced Management Program, the flagship senior leader executive program, at the school. Professor Gulati studies how "resilient" organizations—those that prosper both in good times and bad—drive growth and profitability. His work bridges strategy (establishing clear strategic pillars for growth), organizational design (reimagining purposeful and collaborative organizational systems), and leadership (fostering inspired, courageous and caring execution).
He is the author of a number of books, and has been a frequent guest on CNBC and other media outlets. He has also served on the advisory boards of several entrepreneurial ventures.
Professor Gulati holds a Ph.D. from Harvard University, a Master's Degree in Management from M.I.T.'s Sloan School of Management, and two Bachelor's Degrees, in Computer Science and Economics, from Washington State University and St. Stephen's College, New Delhi, respectively. He lives in Newton, Massachusetts.