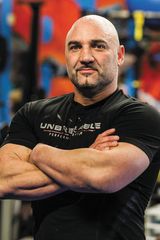 Discover Author
Jay Glazer Books & Biography
Biography
Born and raised in Manalapan, New Jersey, Jay Glazer got his start covering the New York Giants for the New York Post and the local cable channel, NY1. Prior to joining the Fox Sports family in 2004, he covered the NFL for CBS SportsLine and was an insider on CBS Sports' The NFL Today. 
Glazer has trained more than 1000 NFL players, fighters, and other pro athletes, including Odell Beckham Jr., Lane Johnson, Clay Mathews, and Andrew Whitworth, improving their on-field performance with MMA techniques. He was also brought in to coach the Atlanta Falcons, New Orleans Saints, Cleveland Browns, Los Angeles Rams, and other teams.
In 2014, he co-founded the Unbreakable Performance Center, a private training facility in West Hollywood regularly frequented by Chuck Liddell, Wiz Khalifa, Sylvester Stallone, and Demi Lovato, as well as numerous NFL, NHL, and MMA athletes. 
Beyond his sports assignments, Glazer stars as himself in all five seasons of HBO's Ballers In 2015, he and former U.S. Army Green Beret Nate Boyer founded the charitable organization MVP (Merging Vets and Players) to assist veterans and former professional athletes, who often faced a tough road adjusting to civilian life.