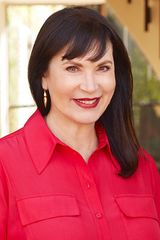 Discover Author
Alexandra Joel Books & Biography
Biography
Alexandra Joel is a former editor of the Australian edition of Harper's Bazaar and of Portfolio, Australia's first magazine for working women. She has also contributed feature articles, interviews and reviews to many national and metropolitan publications.
Her first novel, the bestselling The Paris Model, was published around the world, including in the United States, Canada, Germany and Romania, and was followed by The Royal Correspondent and The Artist's Secret. Alexandra's memoir, Rosetta: A Scandalous True Story was optioned for the screen by a major US-owned production company. She is also the author of two books about fashion in Australia.
With an honours degree from the University of Sydney and a graduate diploma from the Australian College of Applied Psychology, she has been a practising counsellor and psychotherapist.
Alexandra has two children, lives in Sydney and regularly visits London with her British-born husband.
To connect with Alexandra, visit AlexandraJoel.com
Facebook @AlexandraJoelAuthor
Instagram @AlexandraJoelAuthor
Other books by the author