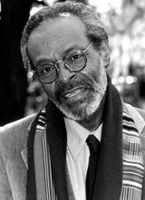 Discover Author
James Haskins Books & Biography
Biography
James Haskins is the author of more than a hundred books for both adults and children, including
The Cotton Club,
which inspired the motion picture of the same name, and
The Story of Stevie Wonder,
which won the Coretta Scott King Award. He was honored with the
Washington Post
/Children's Book Guild Award for his body of work, and his books
Black Music in America,
and
The March on Washington
both won the Carter G. Woodson Award. Mr. Haskins passed away in 2005.
In His Own Words...
"I was born in Dentopolis, Alabama and spent my childhood in a household with lots of children, a household where I felt a great need for privacy. One of the places I found privacy was in books. I could be anywhere at all, but if I was reading it book I was by in myself. Sometimes it was hard for me to get books. In the 1950s, when I was a child, the South was rigidly segregated. The Demopolis Public library was for whites; I black child could not go there. My mother arranged for a white friend to get books from the library for me. Many years later, I returned to Demopolis and gave some of the books I had written to the library I could never enter as a child. Some Years after that, I was invited to give an important speech it that same library.
"I attended high school in Boston, Massachuetts, and college in a variety of places, the first of which was Alabama State University in Montgomery. It Was the time of the Montgomery Bus Boycott, which began after a black woman named osa Rosa Parks refused to give up her seat on a city bus to a white man. Inspired by her action and led by a young minister Martin Luther King, Jr., black people boycotted the buses for more than a year until the United States Supreme Court ruled that segregation on public buses was unconstitutional. I helped hand out leaflets urging black people to stay off the buses and Was expelled front the college for doing so. Georgetown University In Washington, D.C., then offered me a scholarship, and I enrolled there.
"After graduating from college, I moved to New York, where I sold newspaper advertising space and worked as a stock trader on Wall Street before I decided to become a teacher. I taught music and special education classes in Harlem; My first book, Diary Of a Schoolteacher, was a result of my experiences.
"It was the 1960s, and college and high school Students were demonstrating against the war in Vietnam and for the civil rights of black people. My students were aware of those events and wanted to know more about them. But there were no books written on their level. So I started writing books for young people about the various movements--antiwar, civil rights, black power. After that I began writing biographies of black people, because young people black and white--like to read about how successful people grew up and overcame the barriers of poverty and racial discrinination.
"Since the early 1970s, I have taught on the collage level, and I have continued to write books. I have published more than 125 on many subjects for children, young adults, and adults. In 1994, the Washington Post Children's Book Guild honored me for my body of work in nonfiction for children.
"I have learned a lot from writing books. I have also met many important people, including Mrs. Rosa Parks herself, because I helped her write her autobiographies for young adults, Rosa Park: My Story; and for children, I Am Rosa Parks. When I think about that, I am amazed that the woman who was so important to my experiences as a young college student--not to mention the whole civil rights movement--now my friend.
"Books were once--and still are--a way to find my own private world. But they have also introduced me to a world far larger than I would otherwise have experienced. I love books, and I feel very fortunate to have been able to share this love With so many People."