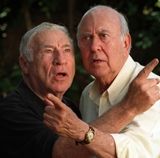 Discover Author
Mel Brooks Books & Biography
Biography
What Mel Brooks did to the history of Western civilization on records, he did to film genres in movies like
Blazing Saddles, History of the World: Part I, Young Frankenstein, High Anxiety, Silent Movie, Spaceballs
and
Robin Hood: Men in Tights.
He received Academy Awards for
The Producers
and the animated short
The Critic.
Carl Reiner created the classic TV comedy The Dick Van Dyke Show, which won 12 Emmy Awards, and also appeared as the intimidating, toupee-topped TV star Alan Brady. Reiner went on to direct such acclaimed comedies as The Thrill of It All, The Jerk, Oh God!, All of Me, Where's Poppa?, Enter Laughing, The Man with Two Brains and Dead Men Don't Wear Plaid.