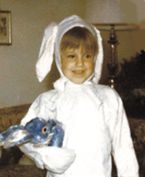 Discover Author
Jennifer P. Goldfinger Books & Biography
Biography
Jennifer P. Goldfinger is the author and illustrator of A Fish Named Spot and My Dog Lyle as well as the illustrator of The King's Chorus. She is also a fine artist whose work has been in juried shows in the Museum of Fine Art in Boston and in a solo show at the Danforth Art Museum as well as being a featured artist in the book Encaustic.
Hello, My Name Is Tiger was inspired by her daughter's friend Simon, who changed his name to Clifford and dressed as a big red dog (in red-footed pj's) for four months. The only time he wasn't dressed as a dog was at bath time, which was also laundry time.
Jennifer lives outside Boston with her husband, daughters, dog, and bunny. You can visit her online at www.jennifergoldfinger.com.