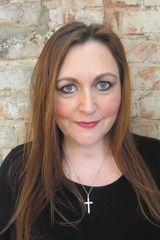 Discover Author
Debbie Johnson Books & Biography
Biography
Debbie Johnson is an award-winning author who lives and works in Liverpool, where she divides her time between writing, caring for a small tribe of children and animals, and not doing the housework.
She writes feel-good emotional women's fiction, and has sold more than 1,000,000 books worldwide. She is published globally in nine different languages, and has had two books optioned for film and TV.
Her books include the best-selling Comfort Food Cafe series,The A-Z of Everything, and the upcoming Maybe One Day.
She is also the author of supernatural crime thriller, Fear No Evil, and urban fantasies Dark Vision and Dark Touch.
Other books by the author