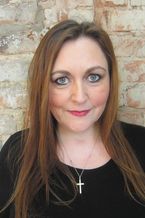 Discover Author
Debbie Johnson Books & Biography
Biography
Debbie Johnson is a best-selling author who lives and works in Liverpool, where she divides her time between writing, caring for a small tribe of children and animals, and not doing the housework.
She worked as a journalist for many years, until she decided it would be more fun to make up her own stories than to tell other people's. After trying her hand at pretty much every genre of writing other than Westerns and spy dramas, she has settled on women's fiction that seems to make people laugh and make people cry, often at the same time.
Her books include The Birthday That Changed Everything, Pippa's Cornish Dream, and Summer at the Comfort Food Cafe, all published by HarperCollins. She also ghost-wrote model and presenter Abbey Clancy's debut novel, Remember My Name.
Follow her on twitter @debbiemjohnson, or at www.facebook.com/debbiejohnsonauthor – but be warned, she mainly talks about dogs.
Other books by the author