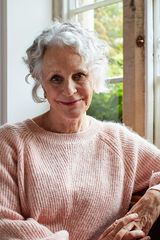 Discover Author
Philippa Gregory Books & Biography
Biography
Philippa Gregory was an established historian and writer when she discovered her interest in the Tudor period and wrote the internationally bestselling novel The Other Boleyn Girl, which became a major film starring Natalie Portman and Scarlett Johansson. Her Cousins' War novels were the basis for the highly successful BBC series, The White Queen.
Philippa's other great interest is the charity that she founded twenty years ago: Gardens for The Gambia. She has raised funds and paid for over 200 wells in the primary schools of this poor African country.
Philippa is a former student of Sussex University and a PhD and Alumna of the Year 2009 of Edinburgh University. In 2016, she was presented with the Outstanding Contribution to Historical Fiction Award by the Historical Writers' Association. Her love for history and commitment to historical accuracy are the hallmarks of her writing. Philippa lives with her family on a small farm in Yorkshire and welcomes visitors to her site www.PhilippaGregory.com. You can also find her on Facebook, Twitter and YouTube.
Other books by the author