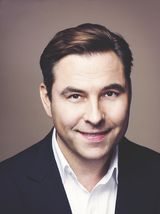 Discover Author
David Walliams Books & Biography
Biography
David Walliams has revolutionised reading for children and become one of the most influential children's writers today. Since the publication of his ground-breaking first novel, <i>The Boy in the Dress</i> (2008), Walliams has seen unprecedented growth with global sales exceeding 35 million copies, and his books translated into 53 languages.
 
Born in London, Tony Ross went to art school in Liverpool. His cartoons have appeared in famous publications the world over. His first book, <i>Hugo and the Wicked Winter</i>, was published in 1972. Tony has since written over 100 books and illustrated over 2000! His creations <i>Towser</i> and <i>The Little Princess</i> have been turned into TV series.
 
David and Tony have worked on six bestselling picture books together, and nine of David's phenomenally successful children's novels. David and Tony also collaborated on the 2017 World Book Day title, BLOB, and on the blockbuster collections, <i>The World's Worst Children</i> 1, 2 and 3.
Other books by the author