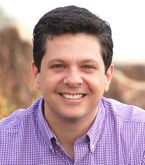 Discover Author
Christopher Weyant Books & Biography
Biography
Husband-and-wife team Anna Kang and Christopher Weyant are the creators of the popular picture books You Are (Not) Small and That's (Not) Mine. Their debut book, You Are (Not) Small, won the Theodor Seuss Geisel Award and was named a Notable Children's Book by the American Library Association. Anna and Christopher live in New Jersey with their two daughters, a guinea pig, and a hermit crab.
Anna, a native New Yorker, received an MFA from USC's School of Cinematic Arts, where the visual storyteller in her was awakened, forever changing the way she saw art, life, and everything in between. Anna has a few secrets—some are juicy but most are boring.
Christopher is a cartoonist and illustrator. His work can regularly be seen in the New Yorker magazine. His cartoons are syndicated worldwide and have been featured on the Today show, Meet the Press, and World News Tonight.