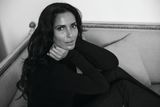 Discover Author
Padma Lakshmi Books & Biography
Biography
Padma Lakshmi is the Emmy-nominated host of the highly rated and critically acclaimed, Emmy-winning Bravo seriesTop Chef, and the author of three cookbooks and food titles: the award-winning Easy Exotic; Tangy, Tart, Hot & Sweet; and the Enclyclopedia of Spices and Herbs. In addition to her culinary achievements, Lakshmi has contributed to such magazines as Vogue, Gourmet, and Harper's Bazaar (UK and US), and penned a syndicated column on fashion and food for the New York Times. Her television-hosting credits include Planet Food and Padma's Passport, as well as other programs in the United States and abroad. A global style icon and the first internationally successful Indian supermodel, Lakshmi also helms companies of her own such as the Padma Collection and Easy Exotic.
Lakshmi is a cofounder of the Endometriosis Foundation of America. Since 2009, the organization has advocated for early diagnosis, promoted research, and raised awareness in the medical community and the greater public about this devastating chronic disease which affects over 190 million women worldwide.
She lives in New York City with her daughter.