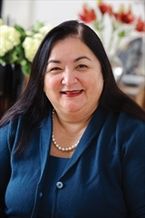 Discover Author
Jane L. Delgado PhD Books & Biography
Biography
Jane L. Delgado, Ph.D., M.S., es presidenta y directora ejecutiva de la Alianza Nacional para la Salud de los Hispanos, la organizacion nacional mas numerosa de proveedores de servicios de salud y servicios humanos para los hispanos. Delgado asumio el cargo en la Alianza tras trabajar en la Oficina Directiva del Secretario del Departamento de Salud y Servicios Humanos (U.S. Department of Health and Human Services o DHHS). Antes de trabajar para el DHHS, ocupo una variedad de cargos, entre ellos coordinadora de talento infantil de Sesame Street de 1973 a 1975.
Delgado, un rostro conocido para millones de personas en todo el pais, fue incluida en la lista de los 100 Hispanos Mas Influyentes en el Hemisferio por People en Espanol y galardonada por WebMD entre los cinco heroes de salud en el 2008. La entrevistan a menudo en ABC News, CNN, Fox News, Telemundo, USA Today y AP, y es invitada frecuente en Despierta América de Univision, el programa matutino en espanol de mayor sintonia.
Delgado, quien ejerce como psicologa clinica, es autora de ¡Salud! Guia para la salud integral de la mujer latina (Rayo/HarperCollins, 2002). Vive en Washington, D.C., con su esposo Mark y su hija Elizabeth.
Other books by the author