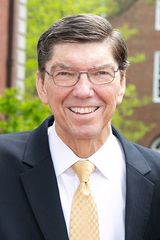 Discover Author
Clayton M. Christensen Books & Biography
Biography
CLAYTON M. CHRISTENSEN is the Kim B. Clark Professor at Harvard Business School, the author of nine books, a five-time recipient of the McKinsey Award for Harvard Business Review's best article, and the cofounder of four companies, including the innovation consulting firm Innosight. In 2011 and 2013 he was named the world's most influential business thinker in a biennial ranking conducted by Thinkers50.
Karen Dillon is the former editor of the Harvard Business Review and coauthor of the New York Times bestseller How Will You Measure Your Life? She is a graduate of Cornell University and Northwestern University's Medill School of Journalism. In 2011 she was named by Ashoka as one of the world's most influential and inspiring women.
Efosa Ojomo works side-by-side with Christensen and the Christensen Institute for Disruptive Innovation, where he leads the organization's Global Prosperity Practice. His work has been published in the Harvard Business Review, the Guardian, Quartz, CNBCAfrica, and the Emerging Markets Business Review.