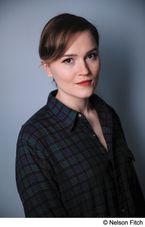 Discover Author
Veronica Roth Books & Biography
Biography
VERONICA ROTH is the #1 New York Times best-selling author of the Divergent series (Divergent, Insurgent, Allegiant, and Four: A Divergent Collection) and the Carve the Mark duology (Carve the Mark, The Fates Divide). Divergent received the 2011 Goodreads Choice Award for Favorite Book, Publishers Weekly's Best Book of 2011, and was the winner of the YALSA 2012 Teens' Top Ten. The trilogy has been adapted into a blockbuster movie series starring Shailene Woodley and Theo James. Carve the Mark published in January 2017, debuted at #1 on the New York Times bestseller list, and remained on the list for eighteen weeks. The Fates Divide, the second installment of the Carve the Mark series, also debuted at #1 on the New York Times bestseller list.

Though she was born in Mount Kisco, New York, Veronica's family moved to Hong Kong and Germany before settling in Barrington, Illinois. In elementary school, Veronica read constantly, but it wasn't until she got a "make your own book!" kit from her mother as a gift that she thought to write anything of her own. From that time on, she knew she would write for the rest of her life, whether she was published or not. She wrote the manuscript that would become Divergent in her free time while attending Northwestern University, where she graduated magna cum laude with a degree in English Literature with Creative Writing in 2010.

She is a board member of YALLFest, the biggest YA book festival in the country, and YALLWEST, its sister festival. She currently lives in Chicago with her husband and their dog, Avi, whose adorable existence is well-documented on Instagram.
 
Other books by the author