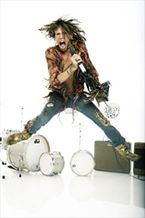 Discover Author
Steven Tyler Books & Biography
Biography
Born Steven Victor Tallarico on March 26, 1948, in Yonkers, New York, Steven Tyler is the iconic songwriter, composer, and voice of Aerosmith—America's greatest rock 'n' roll band—and is considered one of rock's most recognizable and dynamic frontmen. Rolling Stone magazine has cited him as one of the greatest singers of all time.
After coming together in Sunapee, New Hampshire, in the late sixties, five musicians made the decision to move to Boston, live together, and become the band we know today as Aerosmith: Tyler as frontman, guitarist Joe Perry, bassist Tom Hamilton, guitarist Ray Tabano, later replaced by Brad Whitford, and drummer Joey Kramer. The band has sold more than 100 million records across the globe and won numerous prestigious awards—multiple Grammys, American Music awards, Billboard awards, and MTV awards—and was inducted into the Rock 'n' Roll Hall of Fame in 2001.
Aerosmith has infiltrated rock history with their memorable appearances in Wayne's World and The Simpsons, at the halftime show at Super Bowl XXXV in 2001, and in their own Aerosmith version of Guitar Hero. Their number one single, "Don't Want to Miss a Thing," was nominated for an Academy Award for best song for the movie Armageddon. In December 2010, Tyler performed for President Obama and the First Lady in a special tribute to Sir Paul McCartney at the Kennedy Center Honors. In January 2011, Tyler joined Jennifer Lopez, Randy Jackson, and host Ryan Seacrest as a judge on the Fox TV phenomenon American Idol.