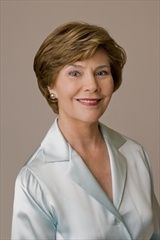 Discover Author
Laura Bush Books & Biography
Biography
For decades, Laura Bush has championed key issues in the fields of education, health care, human rights, and the preservation of our nation's heritage. A hiking and outdoors enthusiast, Mrs. Bush encourages Americans to spend time in and care for our national parks.
The author of the bestselling memoir Spoken from the Heart, Mrs. Bush also founded both the Texas Book Festival and the National Book Festival in Washington, DC. Today, as the chair of the Women's Initiative at the George W. Bush Institute, Mrs. Bush continues her work on global health-care innovations, empowering women in emerging democracies, education reform, and supporting the men and women who have served in America's military. 
Mrs. Bush holds a degree in education and a master's degree in library science. She taught in public schools in Dallas, Houston, and Austin and worked as a public school librarian.