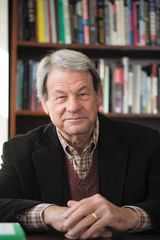 Discover Author
Steven V. Roberts Books & Biography
Biography
Cokie Roberts is a political commentator for ABC News and a senior news analyst for National Public Radio. From 1996 to 2002, she and Sam Donaldson co-anchored the weekly ABC interview program, This Week. She is the bestselling author of We Are Our Mothers' Daughters, Ladies of Liberty, and Founding Mothers.
Steve Roberts is the author of From Every End of This Earth and My Fathers' Houses. He has worked as a journalist for more than forty years and appears regularly as a political analyst on the ABC radio network and National Public Radio. Since 1997 he has been the Shapiro Professor of Media and Public Affairs at George Washington University.
Cokie and Steve Roberts are the New York Times bestselling authors of From This Day Forward. They write a weekly column syndicated in newspapers across the country by United Media. The parents of two children and grandparents of six, Cokie and Steve live in Bethesda, Maryland.
Other books by the author