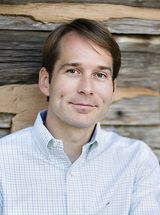 Discover Author
A. G. Riddle Books & Biography
Biography
A.G. Riddle spent ten years starting internet companies before retiring to pursue his true passion: writing fiction.
His debut novel, THE ATLANTIS GENE, is the first book in The Origin Mystery, the trilogy that has sold a million copies in the US, is being translated into 18 languages, and is in development to be a major motion picture.
Riddle grew up in a small town in North Carolina (Boiling Springs) and graduated from UNC-Chapel Hill. During his sophomore year of college, he started his first company with a childhood friend. He currently lives in Parkland, Florida with his wife, who endures his various idiosyncrasies in return for being the first to read his new novels.
No matter where he is, or what's going on, he tries his best to set aside time every day to answer emails and messages from readers. You can reach him at: [email protected]