Afterparties
Stories
On Sale: 06/07/2022
Afterparties
Stories
On Sale: 06/07/2022
Format:
About the Book
INSTANT NEW YORK TIMES BESTSELLER
WINNER OF THE NATIONAL BOOK CRITICS CIRCLE'S JOHN LEONARD PRIZE FOR BEST FIRST BOOK 
WINNER OF THE FERRO-GRUMLEY AWARD FOR LGBTQ FICTION
Named a Best Book of the Year by: New York Times * NPR * Washington Post * LA Times * Kirkus Reviews * New York Public Library * Chicago Public Library * Harper's Bazaar * TIME * Maureen Corrigan, Fresh Air * Boston Globe* The Atlantic
A vibrant story collection about Cambodian-American life—immersive and comic, yet unsparing—that offers profound insight into the intimacy of queer and immigrant communities
Seamlessly transitioning between the absurd and the tenderhearted, balancing acerbic humor with sharp emotional depth, Afterparties offers an expansive portrait of the lives of Cambodian-Americans. As the children of refugees carve out radical new paths for themselves in California, they shoulder the inherited weight of the Khmer Rouge genocide and grapple with the complexities of race, sexuality, friendship, and family.
A high school badminton coach and failing grocery store owner tries to relive his glory days by beating a rising star teenage player. Two drunken brothers attend a wedding afterparty and hatch a plan to expose their shady uncle's snubbing of the bride and groom. A queer love affair sparks between an older tech entrepreneur trying to launch a "safe space" app and a disillusioned young teacher obsessed with Moby-Dick. And in the sweeping final story, a nine-year-old child learns that his mother survived a racist school shooter.
The stories in Afterparties, "powered by So's skill with the telling detail, are like beams of wry, affectionate light, falling from different directions on a complicated, struggling, beloved American community" (George Saunders).
Critical Praise
"Witty and soulful stories from a writer who was just getting started . . . . [So] was gregarious, tattooed, queer: a big personality. He radiates in much the same way on the page. . . . [His] stories reimagine and reanimate the Central Valley, in the way that the polyglot stories in Bryan Washington's collection Lot reimagined Houston and Ocean Vuong's novel On Earth We're Briefly Gorgeous allowed us to see Hartford in a fresh light." — Dwight Garner, New York Times
"Remarkable. . . . [So had] a literary career of extraordinary achievement and immense promise. . . . It feels transgressive that Afterparties is so funny, so irreverent, concerning the previous generation's tragedy." — Hua Hsu, The New Yorker
"The stories are great fun to read—brimming over with life and energy and comic insight and deep feeling." — Deborah Eisenberg, New York Review of Books
"Afterparties is a bittersweet triumph for a fresh voice silenced too soon. . . . A smart, compassionate take on the push-pull of growing up first-generation Cambodian American. . . . [So's] voice is so alive--smart, flip, rude, sexually explicit, and compassionate. . . . [The] freshness is derived not only from So's style as a writer, but from the nuanced perspective of his ultra-intersectional identity." — Maureen Corrigan, Fresh Air
"Afterparties insists on a prismatic understanding of Cambodian American diaspora through stories that burst with as much compassion as comedy, making us laugh just when we're on the verge of crying." — Washington Post
"Marked by sharp wit and overwhelming in the scope of emotions they portray, So's vignettes offer a nuanced and compassionate view of the rich and complex experiences of a group of immigrants who dared to build new lives in an often unforgiving country." — Time magazine
"Seamlessly transitioning between the absurd and the tenderhearted, balancing acerbic humor with sharp emotional depth, Afterparties offers an expansive portrait of the lives of Cambodian-Americans." — Harper's Bazaar
"One of the most exciting contributions to Asian American literature in recent years...These stories are funny without being satirical, refreshingly realist, and generous in their levity." — Vulture
"An electric debut from new literary talent Anthony Veasna So, Afterparties zooms in on the complexities of growing up as the children of Cambodian refugees in California. With a surprising blend of biting wit and raw emotion, So stitches together tales of immigration, identity, queerness, and violence in a collection as bright and breathtaking as its cover." — Elle
"Luminous . . . With profane wit and ruthless honesty, the book explores what it is to be young, brown, and queer in a world that so often prefers to see Asians as the model minority, or not at all: A convenience store manager tries to recapture the badminton glories of his youth in early standout 'Superking Son Scores Again'; an off-the-rails wedding party becomes a chance for two brothers, whipsawed by addiction and mistrust, to make their way warily back to each other." — Entertainment Weekly (Critic's Pick)
"Electric. . . . Afterparties is a world dappled in patterns of light and dark humor. . . . Rather than stage his characters in easily comprehensible postures, gathering them around the mythic American dream at self-serious angles, he shows them to us as they loll about in the dream's afterparty." — The Atlantic
"Afterparties contains multitudes, embodying both the author's Cambodian American heritage and his life-affirming worldview. . . . [So] left us with an indelible posse of 'Cambos' from his hometown of Stockton, California. His people are philosophical, queer, angry, bossy, romantic, unfaithful, filial, and defiant survivors who consider the genocide 'to be the source of all [their] problems and none of them.' . . . In portraying lives subject to multiple perils and displacements, So treats the legacy of genocide with astute nuance—as if such trauma is both integral and incidental to his characters." — NPR.org
"A deeply personal, frankly funny, illuminating portrait of furtive, meddling aunties, sweaty, bored adolescents and the plaintive search for survival that connects them. Its nine stories sketch a world of hidden histories, of longings past and present, and of a culture carving its way out of historical trauma. It is a testament to the burgeoning talent of So. . . . Electric, alive and transportive, Afterparties is a glimpse of a world rarely seen in literature, and of a talent gone too soon." — New York Times Book Review, Editors' Choice
"A rollicking plunge into sex, drugs, genocide and wicked wit. . . . There's technical ease in the composition of these stories, many set over some 23 years in a Central Valley city hit hard by the recession. The speakers, queer and straight, are stalled-out, hyped-up, jubilant and remorseful. A complex, interconnected community comes into sharp focus." — San Francisco Chronicle
"Anthony Veasna So writes with the assurance of a very experienced writer, though this volume of stories is his first book. . . . The stories exhibit great variety not only in point of view but also in language. . . . So vividly recreates the places where the characters make a living. . . . The characters in that story are intriguing and dynamic from the moment they are introduced. . . . So's death is a loss to our culture. His book is a work of singular creativity." — NY Journal of Books
"Even when these stories are funny and hopeful, an inescapable history is always waiting." — Kirkus Reviews (starred review)
"So lovingly documents his community of 'off-brand Asians with dark skin,' investing mundane moments of lived life with an extraordinary magic. While reading, you might have to occasionally pause to admire his talent, his supernatural capacity to map a story that hits every note. As you read his stories, you live them, and at their best, you forget who wrote them and why." — Seattle Times
"Dazzling. . . . An astonishing debut, crackling with energy, narrated in slangy vernacular, and written with attitude and style. . .In each of the nine stories, So lays out for inspection all the problems of his beloved community—from gambling and gossip to alcoholism and suicide—then embraces it all with love and compassion. It is a virtuosic performance." — Associated Press
"More than lives up to the initial hype. A series of vignettes documenting the lives and loves of Cambodian-American families in California's Central Valley with warmth, generosity, and irreverent humor, Afterparties showcases So's dazzling prose . . . So's observations on queer life today are particularly incisive. . . . These movingly intimate windows into the immigrant experience leave a powerful imprint." — Vogue
"A bittersweet triumph. . . . [So] savvily wrote about identity crises in immigrant families without lapsing into worn tropes about assimilation. . . . Afterparties is a powerful, enduring statement in itself, evidence of how deft So was at revealing the layers of complexity within a single community." — USA Today
"This is a collection that will stop you in your tracks... Afterparties feels like its own complete place, with loosely linked stories and side characters disappearing from the pages only to resurface center-stage in the next piece; it's a neighborhood you come to know and love." — Literary Hub
"The nine stories here explode like fireworks, flashing between humor, dislocation, and an aura of collective longing that emerges most acutely in the generational push and pull of Stockton's Cambodian American community." — David Ulin, Alta
"A wildly energetic, heartfelt, original debut by a young writer of exceptional promise. These stories, powered by So's skill with the telling detail, are like beams of wry, affectionate light, falling from different directions on a complicated, struggling, beloved American community." — George Saunders, author of Lincoln in the Bardo
"Afterparties weaves through a Cambodian-American community in the shadow of genocide, following the children of refugees as they grapple with the complexities of masculinity, class, and family. Anthony Veasna So explores the lives of these unforgettable characters with bracing humor and startling tenderness. A stunning collection from an exciting new voice." — Brit Bennett, author of The Vanishing Half
"Funny and fraught, these unforgettable stories delve into the interstices of identity, hinting at life's biting, imperfect beauty." — Esquire
"[The stories are] gloriously alive, full of humor, intelligence and quiet heartbreak…The force of So's talent is the clear throughline throughout this book." — Buzzfeed
"So wrote insightfully about the 'Cambo' community, and the generational divide between those who survived the Khmer Rouge genocide of the late '70s, and those too young and too far removed to understand it. The stories in Afterparties frequently revolve around characters whose flaws are apparent to everyone but themselves, yet the humor is laced with sadness, as So seemed to see comedy and tragedy everywhere and in equal measure." — Philadelphia Inquirer
"So (1992–2020) conjures literary magic in his hilarious and insightful posthumous debut, a collection that delves into a tightly knit community of Cambodian-American immigrants in California's Central Valley….After this immersive introduction to the Central Valley community, readers won't want to leave." — Publishers Weekly (starred review)
"The sheer richness and energy of So's narratives can't be overstated—his characters are full of love, and full of longing, and full of laughter, and full of the possibilities that life offers them and also the ones it hides. It's rare and magical and wild to find queer life, as it's actually lived, on the page—or on any pages—with all its multiplicities and creases and paradoxes and curves, and yet So lays it out for us, sparing nothing and giving everything. I was in awe through the entire collection—and you will be, too. Afterparties is an actual marvel." — Bryan Washington, author of Memorial
"A bright and fearless debut, full of heart, joy, and unforgettable characters." — Douglas Stewart, author of Shuggie Bain
"The mind-frying hilarity of Anthony Veasna So's first book of fiction settles him as the genius of social satire our age needs now more than ever. Few writers can handle firm plot action and wrenching pathos in such elegant prose. This unforgettable new voice is at once poetic and laugh-out-loud funny. These characters kept talking to me long after I closed the book I'm destined to read again and cannot wait to teach. Anthony Veasna So is a shiny new star in literature's firmament and Afterparties his first classic." — Mary Karr, author of Lit: A Memoir
"Anthony Veasna So is a terrific writer. These wild, complex, and funny stories are brilliant in every way. They also speak in profound ways to this troubled American moment. One of the most exciting debuts of the past decade." — Dana Spiotta, author of Innocents and Others
"Like James Joyce's Dubliners, So's collection is a short-story cycle about an ethnic community intimately related not only by culture and history but also by place. If Afterparties has a protagonist, it's not the direct victims of Pol Pot's regime, but their Cambodian American children who inherit their trauma—the collateral damage to so much damage. . . .  Afterparties performs a virtuosic deconstruction of cultural tropes, showing us their historical plasticity and, sometimes, their emotional truth." — BookForum
A cleverly wrought and sparkling debut story collection... [that is] at times numbingly sad, other times strikingly humorous, So's nine stories of Cambodian Americans in California's Central Valley are simultaneously a love letter, an indictment and a memoir... So was a talent--of that there can be no denial. And his presence is felt very much still, his complexities seeping onto every page of this soulful book. — Shelf Awareness (Starred Review)
"We would do well to read [So's] work and the work of other Asian American writers as that which finds pleasure and humor in being at least a little irreverent toward the conventions of Asian American literature and, from there, to see how others might write—and read—differently. So's collection feels like an opportunity to reapproach the genre, where humor drives repeated attempts at expressing the moment of transition and in-between, where renovation is required, as the act of making a space fit for living, over and over again, when and as needed." — Los Angeles Review of Books
"Karen Russell, Carmen Maria Machado, Nana Kwame Adjei-Brenyah — you can count on one hand the authors of this century whose debut short-story collections are as prodigious and career-making as Afterparties. This lovingly specific, history-haunted comedy of Cambodian-American manners should put Anthony Veasna So on smart readers' radar to stay."  — Jonathan Dee, author of The Locals and The Privileges
"So's stories vacillate between the hysterically absurd and the remarkably tender, revealing an intense emotional depth." — NY Observer
"An electrifying, raucous debut collection of stories, Anthony Veasna So's Afterparties feels clandestine and tingly, like a secret told to you by your very best friend—the one who always has the best gossip, and knows how to make you laugh so hard you cry." — Refinery 29
"One of this year's must-read new books." — Bustle
"An engaging, funny, and often loving portrait of the Khmer and Khmer American community in and around Stockton, California." — Brooklyn Rail
"Afterparties, by the late Anthony Veasna So, was one of the big buzz books this year and it exceeded and upended my expectations. So, who died at the age of 28 before the book came out, was a queer first-generation Cambodian American who wrote smart, flip, rude, funny, sexually explicit and compassionate stories about the Cambodian refugee community in Stockton, Calif." — Maureen Corrgian, Fresh Air
-
Product Details
ISBN:

9780063049895

ISBN 10:

0063049899

Imprint:

Ecco

On Sale:

06/07/2022

Pages:

272

List Price:

23.99 CAD

BISAC1 :

FICTION / Literary

BISAC2 :

FICTION / Asian American

BISAC3 :

FICTION / Own Voices

BISAC4 :

FICTION / Short Stories (single author)
The broadest selection of online bookstores. The links will take you to the web site's home page.
Other Booksellers
The broadest selection of online bookstores. The links will take you to the Web site's home page.
Specialty Booksellers
Interest-specific online venues and gift accounts that offer books for purchase. The links will take you to the store's home page.
International Customers
If you are located outside Canada, the best way to order online is to choose from the following bookstores listed by region and country.
SELECT:
BOOKSTORE
Australia
Brazil
Canada
China
Egypt
France
Germany
Hong Kong
Israel
Italy
Japan
Korea
Malaysia
Mexico
Middle East
Netherlands
New Zealand
Philippines
Scandinavia (Sweden, Denmark, Norway, Finland)
Singapore
South Africa
Spain
Switzerland
Taiwan
Thailand
UK
United Arab Emirates
Recommended Books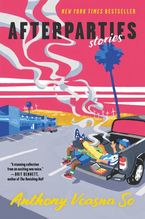 Hardcover
£0.00