Act of Betrayal
A Will Cochrane Novel
On Sale: 10/24/2017
Act of Betrayal
A Will Cochrane Novel
On Sale: 10/24/2017
Format:
About the Book
In this riveting entry in the celebrated thriller series, former intelligence operative Will Cochrane—a "ruthless yet noble" (Ft. Worth Star-Telegram) man from whom "Bond and Bourne could learn a thing or two" (Madison County Herald)—comes out of hiding to expose a conspiracy involving a past assassination that reaches to the highest echelons of the U.S. government.
Three years ago, intelligence officer Will Cochrane was brought in by a Delta Force colonel to assassinate a terrorist financier in Berlin. After the job, the commander vanished, and hasn't been heard from since. The details don't quite add up, and one of the CIA agents who was involved has been investigating the mission. He reaches out to Will for help, but before they can connect, the CIA man is poisoned.
Will is determined to uncover the truth about Berlin, even if it means putting himself in the crosshairs. Framed for multiple murders, the skilled former spy has gone deep underground to evade his enemies and the feds. But honor and loyalty to his old colleague thrust him into danger once again.
When Marsha Gage at the FBI discovers that Cochrane—one of America's Most Wanted—has resurfaced, she immediately launches a manhunt, and she won't stop until she brings the former CIA/MI6 operative in.
With time running out, Cochrane will use all of his training and formidable skills to outmaneuver the FBI and uncover a shocking conspiracy that will rock the foundations of our nation . . . if he can stay alive.
Educator and Librarian Resources
Critical Praise
"Fans of action-heavy thrillers set in the intelligence world are likely already reading Dunn, but if they're not, they should start. They won't be disappointed." - Booklist
"For those who like an updated version of James Bond, Matthew Dunn's Will Cochrane books are spy stories at their finest." - Iron Mountain Daily News
Praise for Spycatcher: "Great talent, great imagination, and real been-there done-that authenticity make this one of the year's best thriller debuts. Highly recommended." - Lee Child
"I know of no other spy thriller that so successfully blends the fascinating nuances of the business of espionage and intelligence work with full-throttle suspense storytelling." - Jeffery Deaver
"Dunn, who was a field officer in the British Secret Intelligence Service, often known as M16, has created a plot with plenty of action and lots of twists and turns . . . nonstop action and relentless danger." - Associated Press
Praise for Dark Spies: "Another deep and intense thriller that feels authentic in terms of how it conveys the spy world… Dunn has crafted another winner in this fine series. The world of spy fiction has a writer who deserves comparison to Ludlum and Fleming." - Booklist
"Fans will enjoy the trademark momentum and the inclusion of several long-running subplots and characters." - Publishers Weekly on A Soldier's Revenge
"One of the things that makes A Soldier's Revenge so good, aside from the complexity of the plot, the harrowing escapes and spy craft that Dunn artfully employs, is the visceral feelings that he can convey. . . . Cochrane is no emotionless Bond…he's much more real." - blackdogspeaks.com on A Soldier's Revenge
"Another page-turner… A locked-room twist on the espionage novel… Dunn maintains his up-tempo pace without sacrificing character development and while allowing the tension to build incrementally. The ending makes clear that another entry in the series is on the way, and it can't arrive fast enough." - Booklist on The Spy House
"A timely story of espionage and intrigue… Chilling." - Iron Mountain Daily News on The Spy House
"For those who love a good twist, there's not one but three at the very end (even to the last sentence of the story). Nobody is who they seem, except perhaps Will Cochrane." - ReviewingTheEvidence.com on The Spy House
"Phenomenal… [Dunn's] knowledge and expertise radiate through his stories, giving them a real world type of a feeling - as scary or thrilling as that can be. Matthew Dunn is able to create harrowing escapes, crafty villains, and characters that rival Bond." - BlackDogSpeaks.com on The Spy House
"Dunn's series features MI6/CIA task force operative Will Cochrane, who lacks James Bond's gadgets but relies on encyclopedic knowledge, physical prowess, and an off-the-charts degree of self-sufficiency that even Jack Reacher would envy… The author's prose is lean and compelling, and the pace is frantic." - Publishers Weekly on Dark Spies
"Just when you think you have this maze of double-dealing figured out-surprise, it isn't what you think. All the elements of a classic espionage story are here. The novel moves with relentless momentum, scattering bodies in its wake." - Kirkus Reviews on Dark Spies
"Great action sequences and a clever if complicated plot make this a satisfying read." - Publishers Weekly on Dark Spies
"There are many unforeseen twists in the tale and we are as surprised as Cochrane to discover who is really behind the acts of sabotage and treason… Cochrane's situation and his quest for the truth provide an exciting read that is solidly grounded in the real world." - ReviewingTheEvidence.com on Dark Spies
"[Dunn], a former MI6 agent, dishes up another riveting novel of intrigue... The golden age of the spy novel is not over, not with the master (Matthew Dunn) and his top notch agent, William Cochrane." - Iron Mountain Daily News on Dark Spies
"A superb and exciting spy thriller that is solid with verisimilitude and precision throughout. . . . Has both depth of characterizations and locales, accuracy with weapons and other paraphernalia, and at the same time is a terrific, intense read that never lags in pacing or rhythm." - OverMyDeadBody.com on Dark Spies
"Dunn's exuberant, bullet-drenched prose... bristles with authenticity. . . . Save for works by Alan Furst, good thrillers have been thin on the ground of late. Mr. Dunn has redressed this balance with an altogether gripping book." - The Economist on Slingshot
"The spy-turned-author doe not merely have a great resume-he also possesses a superlative talent for three-dimensional characterization, gripping dialogue, and plots that featured gasp-inducing twists and betrayals. . . . Now Dunn's talents come to full fruition in Slingshot." - Examiner.com on Slingshot
"Dunn, a former MI6 field officer, skillfully handles the usual spy business-uncovering high-placed traitors, blowing the other guy up, fighting one-on-one, and crossing and double-crossing each other." - Publishers Weekly on Sentinel
"A complex work with a twisting and turning plot that moves ever forward, loaded with the double-and triple-crosses that readers who follow the author have come to expect. . . . should be added to the must-read lists of all fans of espionage thrillers." - Bookreporter.com on Slingshot
"An in Spycatcher, Dunn's action scenes are vividly drawn. Lovers of derring-do will love this series." - Booklist on Sentinel
"The general is a terrific villain-strong, sly, scheming, sick, smart, and really, really evil. And as Dunn spins out the story, the whole scenario seems to become more and more believable. . . . And on top of all that, there is a fascinating shocker at the climax." - National Book Examiner on Sentinel
"You can thrill to the high pressure intrigue as CIA and MI6 agents bumble into each other, unfortunately rubbing out the wrong principles in their haste to save their ideals. . . . Sentinel's characters are thoroughly and irresistibly believable." - Examiner.com on Sentinel
"As a former member of British MI6, Dunn writes as someone who is familiar with the cat and mouse game of espionage where the loyalties of agents can never be taken for granted as he shows in a truly dynamite ending" - Iron Mountain Daily News on Sentinel
"Dunn delivers insights into a world most of us will never experience-except between the covers of a book, or maybe someday in a movie as good as the best of the Bond and Bourne sagas." - Oakland Tribune on Sentinel
"A spellbinding, realistic novel. . . . Sentinel is a fast paced and riveting book with pure action and intrigue. The many twists and turns makes for a very interesting and captivating book." - Blackfive.net on Sentinel
"Dunn draws on his real-life experience as an M16 agent for his strong spy thriller debut. . . . Readers will want to see more of his distinctive hero, "the ultimate killer of killers." - Publishers Weekly
"Terse conversations infused with subtle power plays, brutal encounters among allies with competing agendas, and forays into hostile territory orchestrated for clockwork efficiency but vulnerable to deadly missteps. . . . A stylish and assured debut." - Washington Post on Spycatcher
"Fans of John Le Carre? You'll love Matthew Dunn's Spycatcher. . . . an action-packed story, with some of the best fight scenes I've ever read. . . . What really makes Spycatcher work, however, is the depth of insight it gives into the personal lives of spies." - WordPress.com on Spycatcher
"Like le Carré and Fleming before him, he is the real thing, a former member of SIS turned fictional chronicler of the secret world…. Meet Will Cochrane, a one-man weapon of mass destruction; 007 is a cocktail-sipping lush compared with Cochrane." - Daily Telegraph (London) on Spycatcher
"As an ex-espionage agent, Dunn knows and has written the nuances of a world most of us can't possibly imagine. . . . It's a great combination of politics, terrorism, and personal demons all rolled into one with an ending you won't see coming." - Suspense Magazine on Spycatcher
"Spycatcher by Matthew Dunn [is the] best espionage novel. Bond and Bourne could learn a thing or two from the brave and bruised Will Cochrane." - Madison County Herald on Spycatcher
"A nail-biting thriller. . . if you love high octane action and want to read a 'movie-on-the-page' then I would advise giving Spycatcher a go. . . . This [is] a very promising start to what . . . could become a very popular series indeed." - CrimeSquad.com on Spycatcher
"An electrifying espionage thriller. . . . Dunn draws upon his own undercover work in his novel about M16's Spartan Program. . . . Through Dunn's insider perspective, we get a rare look into the mind of a spy. . . . This guy can write." - Hudson Valley News on Spycatcher
"This debut by former field officer Matthew Dunn will have you on the edge of your seat." - The Intelligencer (Philadelphia) on Spycatcher
"The days of thrilling espionage fiction did not end with Ian Fleming and his iconic agent 007. . . . Spycatcher brings us an agent for today's world." - Iron Mountain Daily News on Spycatcher
"A real spy proves he is a real writer-and a truly deft and inventive one. Spycatcher is a stunning debut." - Ted Bell, New York Times bestselling author of Hawke, Assassin, and Pirate on Spycatcher
"A terrific thriller with a superb new hero. . . . Written with confidence by a man with the credentials to back him up . . . Bond and Bourne can take a back seat." - Matt Hilton, author of Judgment and Wrath on Spycatcher
Resources
Product Details
ISBN:

9780062427229

ISBN 10:

0062427229

Imprint:

William Morrow

On Sale:

10/24/2017

Pages:

320

List Price:

33.50 CAD

BISAC1 :

FICTION / Thrillers / Espionage

BISAC2 :

FICTION / Thrillers / Crime

BISAC3 :

FICTION / Action & Adventure
The broadest selection of online bookstores. The links will take you to the web site's home page.
Other Booksellers
The broadest selection of online bookstores. The links will take you to the Web site's home page.
Specialty Booksellers
Interest-specific online venues will often provide a book buying opportunity. Click here for a list of interest-specific sites grouped by category.
International Customers
If you are located outside Canada, the best way to order online is to choose from the following bookstores listed by region and country.
SELECT:
BOOKSTORE
Australia
Brazil
Canada
China
Egypt
France
Germany
Hong Kong
Israel
Italy
Japan
Korea
Malaysia
Mexico
Middle East
Netherlands
New Zealand
Philippines
Scandinavia (Sweden, Denmark, Norway, Finland)
Singapore
South Africa
Spain
Switzerland
Taiwan
Thailand
UK
United Arab Emirates
Recommended Books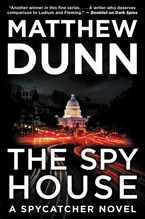 Hardcover
£0.00